Did you know that approximately 68% of people and businesses in the construction industry experience equipment theft at some point? That's why hiring a CCTV camera is an invaluable addition to your construction site.
From protecting your site from thefts and vandalism, through to preventing false liability claims, there are a number of benefits that using temporary security cameras on your construction site can offer.
At Ahoy Hire, our expert owner and director has more than 40 years of experience working in the building and construction industry. That's why we know everything there is to know about keeping a site safe and secure, and the importance of hiring temporary security cameras.
Benefits of Construction Site CCTV Hire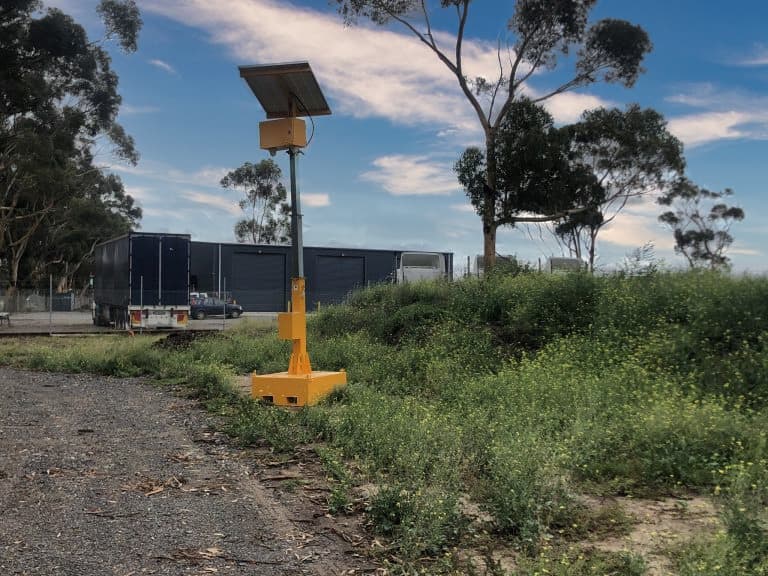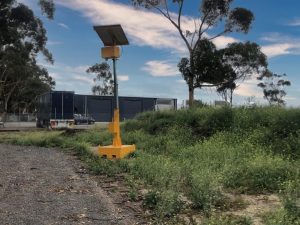 The benefits of hiring CCTV cameras for your construction site are almost endless; in fact, there are almost no downsides. That's why you shouldn't hesitate when it comes to hiring a security camera for your building site.
The benefits of construction site CCTV hire include:
Deter Trespassers – Most trespassers enter sites opportunistically. As such, they will often do a quick survey of the site to see whether they should enter in the first place. Other than a locked gate, the first thing they will look for is CCTV cameras. The mere site of security cameras is usually enough to deter opportunistic trespassers, and therefore protect your site by merely being there.
Prevent Thefts – In addition to outside thefts, a lot of construction site equipment theft is perpetrated by onsite tradesmen. However, construction sites are busy places and it's pretty much impossible to keep track of every single person onsite all the time. But with the help of CCTV cameras, not only will tradesmen be deterred from stealing equipment in the first place, they can easily be found and reprimanded accordingly thanks to the footage captured.
Catch Perpetrators – If your CCTV cameras fail to deter insistent vandals, thefts or trespassers, they can be used to find and identify the perpetrators so that they can be prosecuted, and you can be reimbursed for your losses.
Stop False Liability Claims – It is not uncommon for construction sites to become the target of liability claims from injured workers. Having CCTV cameras in place can ensure that the incident is captured, which can be critical evidence in court for proving that you are not liable.
Protect Workers – On the flip side, having CCTV cameras helps to protect your workers by ensuring that health and safety protocols are up to scratch. This provide your workers with confidence and ensures compliance with union standards.
Save Money – By preventing and deterring thefts and vandalism, investing in high-quality CCTV camera hire can ultimately help you to save money. This is because you will not have to deal with the out of pocket costs associated with replacing equipment or fixing vandalism.
Avoid Delays – Thefts and vandalism can sometimes lead to project delays and stoppages. With the help of CCTV, you can avoid delays and ensure that your project is able to adhere to its projected timeline.
Peace of Mind – Nothing is better than peace of mind. With surveillance cameras installed at your construction site, you can sleep easy at night knowing that your site is protected and safe.
It is not uncommon for victims of trespassing, vandalism or theft to experience more than one attack. In fact, approximately 66% of victims experience repeat offences. That's why it's of the utmost importance that you invest in high-quality surveillance camera hire for your construction site.
Ahoy Hire's Temporary CCTV Cameras
Ahoy Hire's temporary security cameras are second to none when it comes to quality and reliability. We have invested in top of the line equipment that provides high-resolution imaging of your construction site, offering you a clear image of what is happening on your site.
Our cameras also have a variety of unique in-built features that help to ensure the protection of your site. This includes automated lights and alarms. Additionally, our CCTV cameras even offer 2-way audio, which can be used to speak directly to your workers or the on-site offender via the camera.
As a family owned and operated business that was established more than 15 years ago, you can rely on Ahoy Hire to provide consistently high-quality equipment that suits the needs of your specific construction site.
We are committed to improving the safety, security and functionality of your construction site by providing you with the best possible equipment. That's why, with our hi-tech cameras you can sleep peacefully at night knowing that your site's equipment is safe, and you won't have to face any false liability claims.